TeethToday®


Dental Implants Hauppauge
Welcome to TeethToday®
Dental Implants Hauppauge
TeethToday® is an advanced dental implant technique offered by TeethToday® Dental Implant Centers where highly qualified doctors immediately and predictably replace missing teeth with new teeth in one day.

Please call (855) 78-IMPLANT today to set up your FREE CONSULTATION.
Your Hauppauge Dental Implant DOCTORS
Meet The Doctor
Class president of his graduate program President of Suffolk County Dental Society

President of the Northeastern Society of Periodontists

Assistant Clinical Professor in Periodontics at the State University of New York at Stony Brook School of Dentistry

Founder and director of the Long Island Dental Forum

New York State Certificate for Accomplishing over 2500 hours of continuing education

Alpha Omega Dental Fraternity, President Pierre Fauchard Academy, Fellow Vistage International, Founding Member Clinical Advisor to Nobel Biocare Implant Company

Certified Lecturer for Straumann Implant Company

Personal:Dr. Alan H. Farber and his wife, Debbie, have three boys: Zachary, Derek, and Jared. Dr. Farber's hobbies include Photography, Tennis, Scuba Diving, Skiing, Travel, Computers, and he is an avid Wine Collector.
X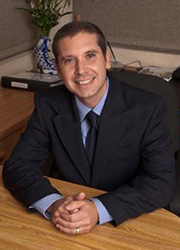 Meet The Doctor
Chris Chondrogiannis
, DDS
Former President of the Hellenic Dental Society of New York

Course Instructor of the New York Academy of Dentistry since 2004

Member of The American Academy of Periodontology, American Dental Association, the Northeastern Society of Periodontists, Chairperson of the New York County Dental Society, New York State Dental Association, New York Society of Forensic Dentists Fellow to the New York Academy of Dentistry

Certificate of Appreciation by the American Academy of Periodontology in recognition of contribution to the victim identification efforts of September 11th, 2001

Certificate of Recognition by the Office of The Chief Medical Examiner of New York City for service to the Dental Identification Unit December 2001- May 2002 following the events of September 11th, 2001

Runner in New York City Marathon, 1997

Married to wife, Linda Two children, son James and daughter, Amelia
X
Meet The Doctor
Certificate of appreciation for outstanding active participation in teaching assistant in Periodontic Education, NYU Periodontics

New York University College of Dentistry Dean's List

Special Olympics Special Smiles Program Dental Outreach Program to provide screenings and oral health education to inner city youth

Archangel Michael Ladies Philoptochos, Philanthropic Organization Member

Married to Dr. Jorge Matos (Orthodontist) Three children, Sofia, Theodora and John
X
TeethToday® Dental Implants
Hauppauge
523 Townline Rd., Suite 11
Hauppauge,NY 11788
7:30am to 6:00pm or 10:00am to 8:00pm
8:00am to 5:00pm or 9:00am to 6:00pm
TeethToday®

Medford

, NY

1641 Route 112, Suite B,
Medford, NY 11763

10:00am to 6:00pm or 9:00am to 7:00pm